Murano is synonymous with hand made colored glass. When used as a lamp the glow from the bulb illuminates the glass and brings out the magnificent colors and designs. In many cases the design is further projected onto a wall or ceiling giving beautiful and soft illumination to the room.
The design of Murano glass lamps is vary varied. Murano glass can be used for the bases of table lamps, for the shades of lamps, for floor lamps, for sconces, pendant lights and chandeliers.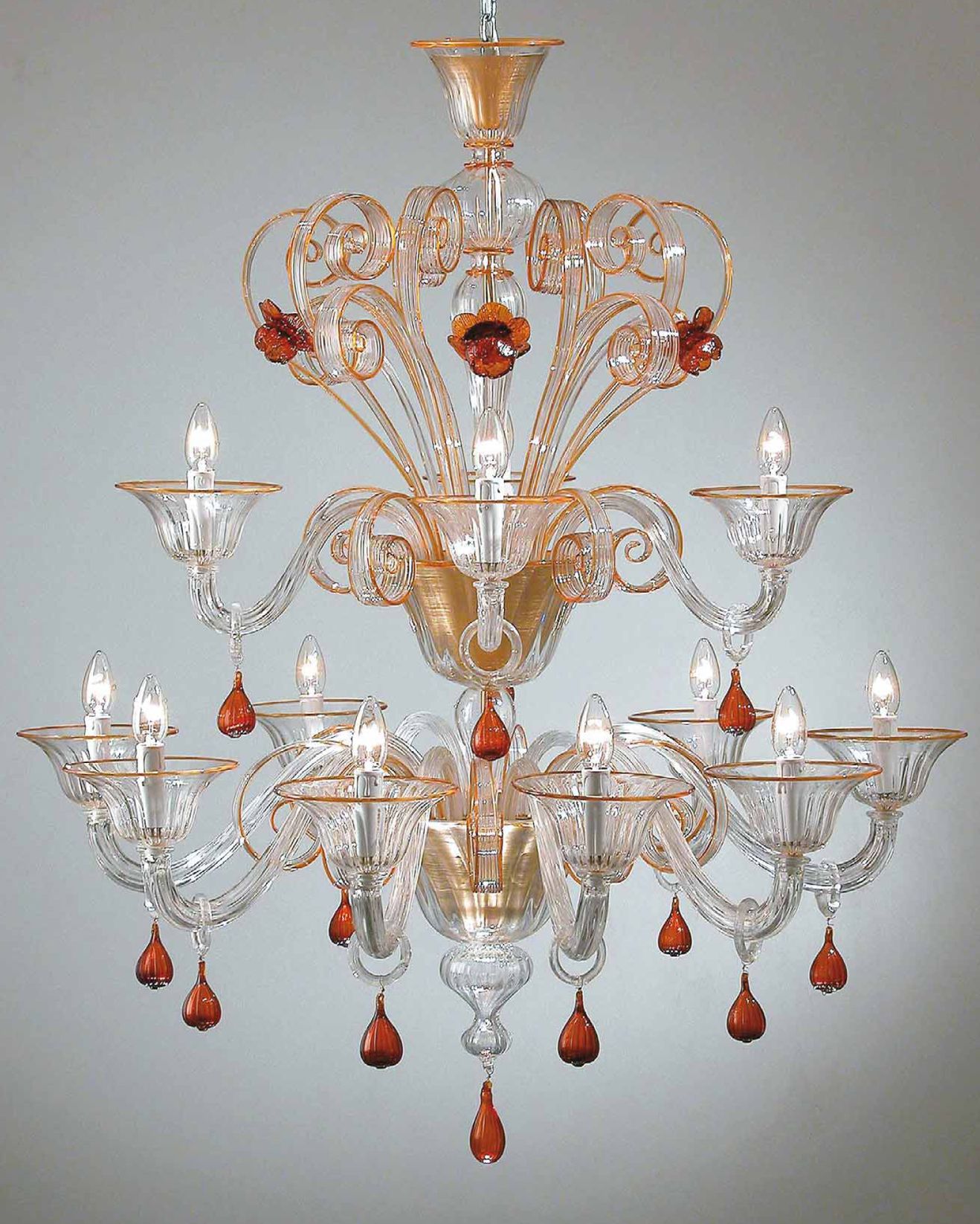 Combinations of milky and clear glass, or glass with swirls of metal foil are generally used for classical style lamps and chandeliers while the millifiore (thousand flowers) and zanfirico (ribbons of twisted glass) are used for more contemporary designs. Colors may range from muted pastels to bright and contrasty.
It is useful to remember that each item is hand made in the authentic Murano way, according to secret techniques handed down over centuries. Consequently each piece is a unique artwork and even though the Murano craftsmen may try to make pieces the same, no two are identical. This may be important to you if you need multiple shades for your light fitting – they will vary somewhat.
Clear Murano glass is superbly transparent and crystal clear without any of the unwanted discoloration, usually green or grey, found in cheaper glass. The process for producing this perfectly clear glass was developed by the master glass makers of Murano in 1450. Although the glass is said to be clear as crystal it is important to emphasize that it is Murano glass and NOT crystal. Because of this a chandelier made from clear Murano glass becomes an artistic masterpiece with a glamorous sparkle which you can never get from a mass produced chandelier made of cheap glass.
Murano lamps are not cheap, but each is an work of art. A relatively small chandelier will run out at around 1000 to 2000 Euros bought from the factory on Murano island and around € 3000 to € 4000 from a fine art retailer in one of the capitals of the world.
With the revival in popularity of art deco styles the popularity of Murano glass table and floor lamps has sky rocketed. A simple 1950's Murano glass table lamp can fetch € 3500 from a New York or London dealer while a pair of Murano wall sconces would typically be sold for € 4000. This highlights the investment value of good Murano glass lamps and the demand for them as collectibles.