No problem, just send us a photo of the Murano chandelier you are looking for and we will send you a no obligation quote within 24 hours.
---
---
Aureliano
Measurements and prices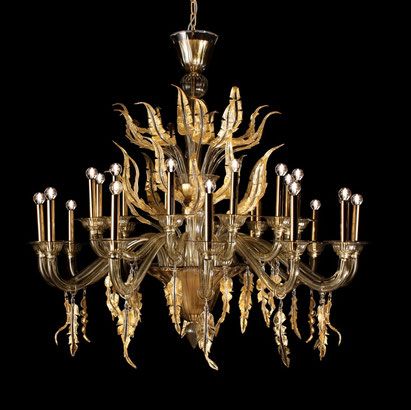 The purchase of a Murano glass chandelier could be equivalent to the purchase of a painting by a famous painter or a tailored suit.
The Murano blown glass chandeliers and handmade by master glassmakers, certainly contributes to the uniqueness and style of your home: the charm, elegance, exclusivity and glamor of a true work of art can be enclosed in a single Murano blown glass chandelier.
These Murano chandeliers enclose not only the immortal charm of the history of the island of Murano and the functionality of the chandelier, but also the craft of the glass master: together they create a unique work of Murano glass.
The Murano chandeliers are blown entirely with the cane, in a totally artisanal process, by virtue of this characteristic they are customizable in shape, size and colours indicated by the customers.
Centuries and centuries of tradition to create unique objects, true works of art that make a chandelier unique in its kind because it is handmade and therefore unrepeatable.
The design and processing of the chandelier is taken care of in every detail, right up to its realisation, merging creativity, craftsmanship and experience!
Any variation in a Murano chandelier is available: ask, and if we are able we will do it!!!
A Murano glass chandelier will be the most important and most viewed element in your interior decoration plan.  Its exquisite beauty and timeless elegance will be appreciated and admired by your guests, no matter who they are.  To ensure that your Murano glass chandelier is of appropriate size, please do not place a small Venetian chandelier in a large room or a long classic chandelier on a low ceiling.
We recommend a distance of approximately 80 inches from the floor to the lowest point of the chandelier, however, if the chandelier is to be placed over a table, this space can be reduced to fit.
How wide should my Murano chandelier be?  - To give you an idea of how wide your Venetian crystal chandelier should be, use these 2 formulas: 
Chandelier for a square room 
The length of a wall (in cm) divided by 6 will give you the width of your chandelier in cm, or
Length of a wall (in feet) x 2.2 will give you the width of the chandelier in inches 
Chandelier for a rectangular room
Use the same formulas for the shorter wall, but if you have one wall twice the size of the other, we suggest using 2 identical Venetian chandeliers.
How many lights will my chandelier need?
First of all, let's consider that our chandeliers are suitable for light bulbs that develop an amount of light equal or superior to the old 60 Watt incandescent lamps, so a Murano glass chandelier of 5 or 6 lights will provide you with ample illumination.  For larger chandeliers, it is a good idea to install a dimmer switch to control the intensity of the light.
 What a statement they would make in any decorating or decorating solution. Wonderful decoration ideas for budding or professional interior designers. A wide range of options to suit any number of home designs with all elements fully customisable to suit any interior decoration plan. The style known as Murano glass chandelier.
 This style was conceived and designed in 18th century Venice. This style bears elements such as upward spiralling canes, groups of leaves, inverted cups, torcello or paste flowers, curls, drops and more. Each of these elements can be customised to suit your needs.  
These Murano glass chandeliers are flamboyant and pretty. All items can be customised to suit any home and budget where you can design your own lighting solution in the size, colour and lighting combination you choose. So dream, create and realise your very own.
Let yourself be accompanied through the Venetian streets meeting on your way the small "botteghe" of Murano glass craftsmanship permeated with all their culture and tradition handed down for centuries from father to son.
This is the showcase of many of those shops selling only Murano artistic glass, where you can browse among Murano glass chandeliers, wall lamps and wall sconces, Murano glass desk lamps, Venetian glass lamps that will satiate your taste buds. 
you will find modern contemporary and classic Murano glass chandeliers that will satiate your desire for culture. And if you want to make your own one of these expressions of art, in this online shop you can make your purchase ...
We always offer a wide variety of classic murano chandeliers to create a warm and cozy environment such as the kitchen, or lighting for the dining room, to make exclusive living room, bedroom, and even for the bathroom.
Murano classic chandeliers to meet every need of furniture directly from the manufacturer getting the maximum beauty at an affordable price. In this online store you will find, among many items, Murano chandeliers delivered directly to your home.
Our staff, with over 20 years of experience is able to advise you and follow you step by step at all stages to find the model, size and color most suitable.
The peculiarity and the main feature of our way of proposing the classic Murano chandeliers is to identify the characteristics of the room in which it must be placed and create a custom-made product perfect for that space, it is easy to understand that the effect will be more beautiful and better than any other combination.
If you need to illuminate more than one room and you need to buy more than four points of light that are chandeliers or wall lamps, table lamps or floor lamps contact us before buying, we will make for you a custom quote at extremely advantageous conditions.