To carry out the restoration and recovery of large and very large classic Venetian chandeliers it is necessary to have available Murano glass masters with the most varied skills in the many techniques of production of missing or lost parts.
A large warehouse of Murano glass spare parts greatly facilitates us to repair and restore antique Venetian glass chandeliers.
We make spare parts for antique Murano chandeliers with missing components. We restore antique chandeliers to their original value.
Creation of unique works (parts of antique chandeliers) of considerable economic value: Every time you break or lose a component finding spare parts for these Murano chandeliers to restore them to their original value is very difficult.
Cups or cups, leaves, backs, curly or pastoral arms in blown glass for Murano chandeliers. We also make spare parts to customer specifications.

We have created a special company structure, with an historical archive, in order to very quickly identify the style of Murano chandelier to be repaired and consequently the missing parts.
The particular market of Murano glass in the USA and UK led us to create commercial structures dedicated to these specific markets.
Before the end of the 1800's houses and rooms were illuminated by chandeliers with candles because electricity had not yet been invented,
Consequently there was no reason to make the arms of a chandelier hollow to pass the electrical wire inside and of course the candle was inserted where we now put the lamp holder.
After the arrival of electricity, most of the owners of Murano glass chandeliers decided to electrify them using wires running along the outside of the arms and used lamp holders instead of candles.
One of the main methods to recognize an authentic antique Murano glass chandelier is the full arm with the outer wire and the candle holders.
On request we can reproduce a chandelier made in this way .
Beautiful chandelier created by master Ferro for Barovier & Toso in 1952 in Murano glass. 
A special aquamarine blue color for this Murano glass chandelier made by master Ferro for
the world famous glassworks Barovier & Toso.
 This Murano glass chandelier model blown with very difficult techniques, requires the work of a team of 4 people at the same time.
This team of 4, is commonly referred to on the island of Murano glass as "Piazza". 
Specifically, this Murano glass chandelier has several parts that have broken over the years.
The owners of these Murano chandeliers were so kind and helpful and allowed us
to do this photo shoot.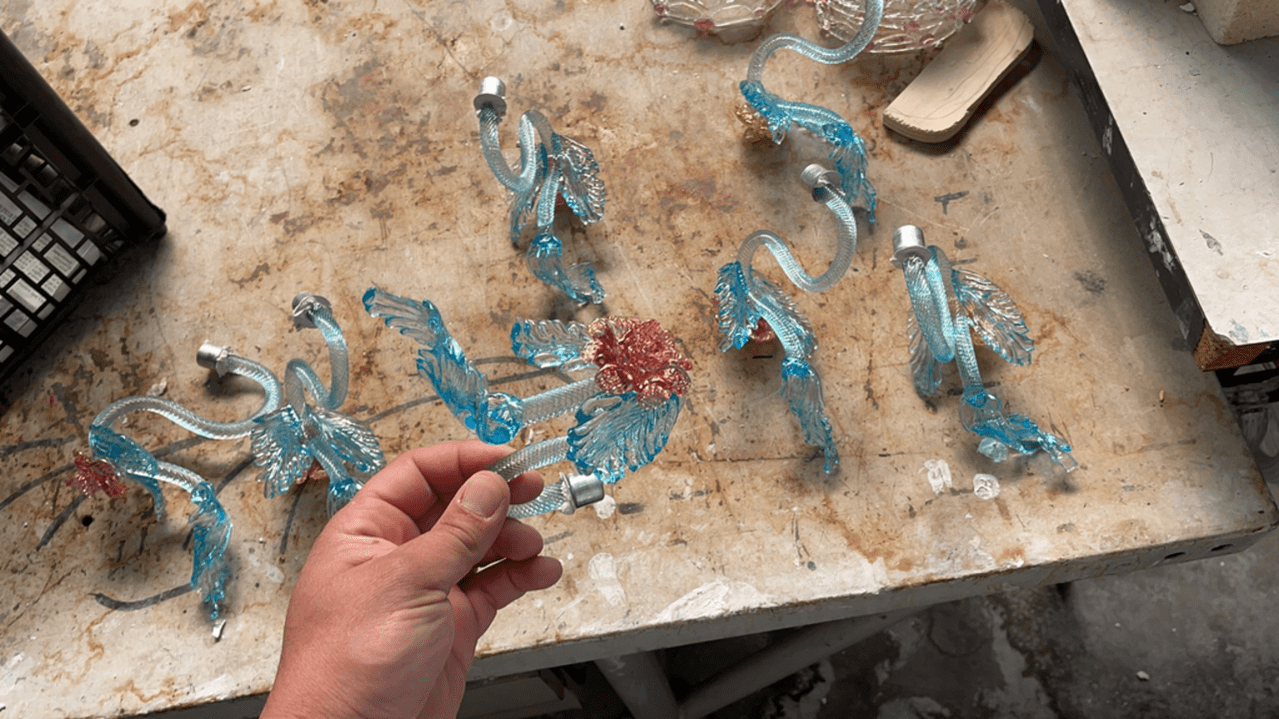 These words and the photo shoot to indicate to all those owners of a
Murano glass chandelier with broken or missing parts, a way to restore the chandelier as it was when it was first purchased.

We made this: A photo makes much more than descriptions In the photos spare parts for high leaf-shaped murano chandeliers w ith applied amber and pink flowers and gold dust Blue pink and amber low leaves the colours and shapes are absolutely perfect.
It is not to boast but to reproduce spare parts for Murano glass chandeliers is much more difficult  much more difficult than blowing the same model every day You don't invent the techniques, you have to know them.
They are a particular segment of Murano glass chandeliers and due to their cost and large size we offer a spare parts supply service that is guaranteed for life. Even if produced by other Venetians glassworks