A Murano glass chandelier is a fixture mounted on the ceiling with two or more branches carrying several lights. Modern chandeliers are often very ornate, containing dozens of lamps and intricate arrays of various glass shapes to spread light in complex and attractive patterns. Many chandeliers are installed in dining rooms or lobbies and have an impact on the atmosphere of the room. Chandeliers vary greatly in their styles, size and design. They also vary in the quality and quantity of light they produce. It is often thought that chandeliers are large, ornate structures only suitable for the rich or eccentric, but modern chandeliers can be suitable to enhance any home or room. That said, there are some simple guidelines when it comes to choosing the right chandelier for the appropriate location in the home. You have to remember that Murano glass chandeliers are much heavier than typical ceiling mounted fixtures. For this reason, you need to make sure that the ceiling junction box, where all the electrical wires are kept, is strong enough to accommodate your new chandelier.  If you are unsure whether your ceiling juction box is adequate enough, a qualified electrician will be able to help you. After this initial consultation, you will find that replacing an existing lamp with an elegant chandelier is a quick and easy way to improve the look of any room.  To help you choose the most attractive Murano chandelier for your particular needs, here are some basic guidelines.  For a dining room, ideally located above the dining table, the chandelier should be placed a minimum of 30-36 inches above the table.  This height will ensure that there will be minimal interference from your guests walking under the chandelier. Nothing detracts more from the beauty of your Murano chandelier than having to constantly avoid hitting it with your head.  This height also provides the best lighting.  For ceilings higher than 8 feet, hang the chandelier higher than 36 inches.  Also keep in mind that you want the diameter of the chandelier to be about 12 inches less than the width of your table.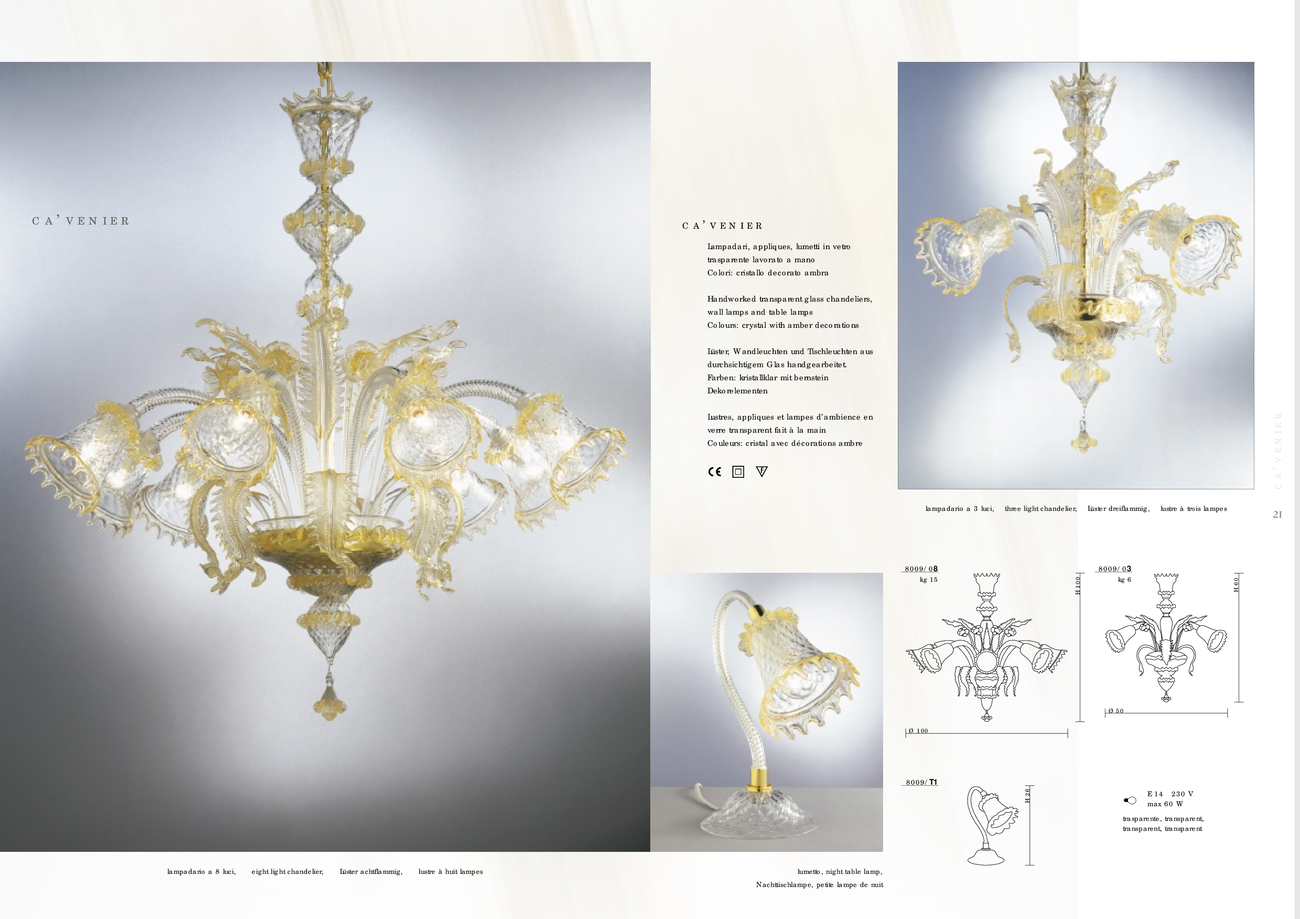 When installing a Murano glass chandelier in the foyer, make sure the bottom of the chandelier is about seven or more feet above the floor to allow clearance from doorways and tall people.
The first chandeliers were used in medieval churches and abbeys to effectively illuminate large rooms. They generally took the form of a wooden cross with a number of points on which candles could be fixed, the whole assembly being hoisted to a suitable height on a rope suspended from a hook once lit. By the 15th century, more complex forms of chandeliers based on ring or crown designs began to become popular decorative features, found in palaces and the homes of the very wealthy. The popularity of the fixture as a status symbol continued to grow. By the early 18th century, ornate forms of cast brass with long curved arms and many candles could be found in the homes of most of the merchant classes. In contrast, a chandelier that contrasts with the table on which it hangs can be an extremely elegant, modern and individual look that exudes personality. To discourage this is very dated advice, mixing styles is sexy.   Choose a chandelier that can be hung at the right height when a table will be centred under it. Consider both the chandelier and the room you are lighting: if the Murano glass chandelier has bare bulbs, for example, it will need to be hung high enough to avoid glare. At the same time, if you have an 8-foot ceiling, you'll want to avoid hanging a chandelier too high or it will look sawn-off and stunted.
Remember that a Murano glass chandelier is more of a room decoration than a functional lamp. It doesn't need a zillion bulbs just because the room is big; let the other lighting in the room properly complement a more understated chandelier. Pay attention to the scale. Bigger is usually better; too often a Murano chandelier can look small. Choose a chandelier that matches the mood and style of the other furnishings in the room: Murano glass sconces, furniture, wallpaper, window treatments and other accessories. Try to keep the metals in the room in finishes that harmonise. For example, matt pewter should not mix with polished silver, and polished brass should not be mixed with antique brass or verdigris.
Developments in the manufacture of Murano glass in the 18th century made production more accessible to connoisseurs. The light-diffusing properties of this highly refractive crystalline Murano glass quickly became a popular addition to the form.